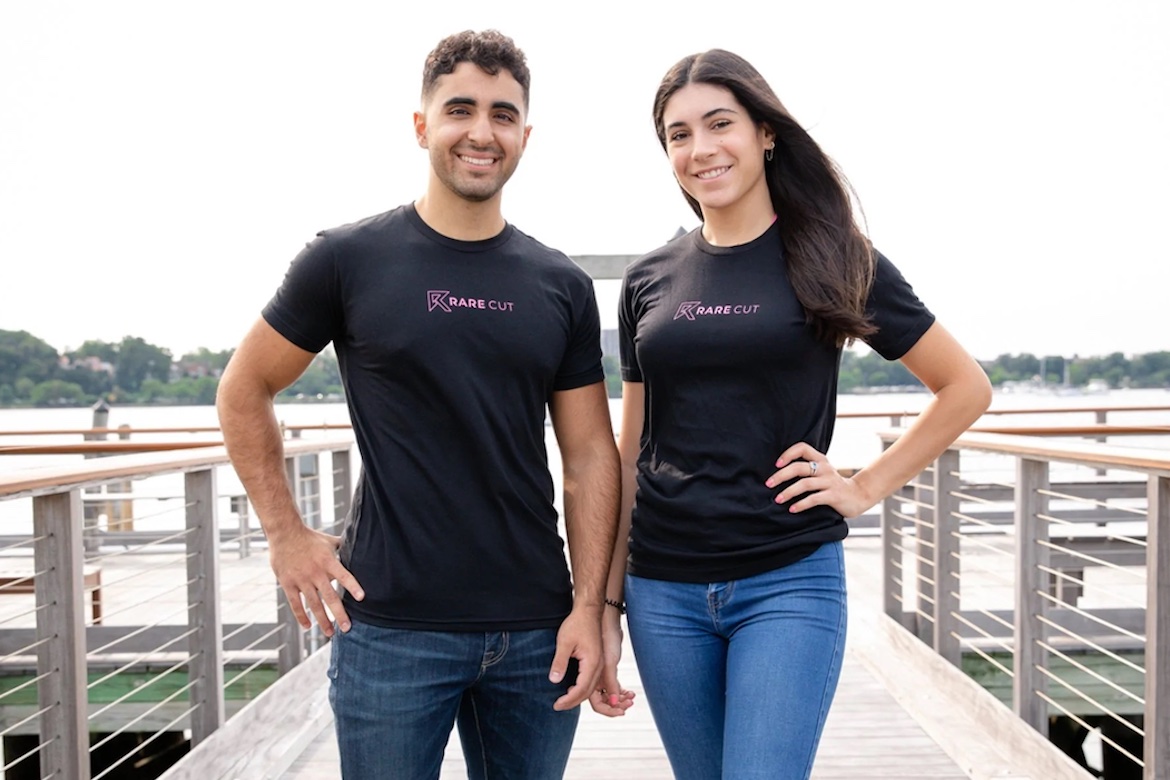 Astoria-based entrepreneur sells products to raise money for breast cancer research
RARE CUT, an Astoria, New York-based startup, is going pink this month by selling merchandise to raise funds that will support breast cancer research.
Founder Anthony Orisses is running the campaign for a second year and will donate a portion of sales to Kat's Ribbon of Hopea non-profit organization that provides financial assistance to women who cannot afford breast cancer early detection and treatment services.
"For the second year, we are going pink to help a cause close to our hearts," Orisses told the Pappas Post. "By purchasing one or more of these shirts, you will help improve the lives of women and their families who are going through a difficult journey."
The unisex black tri-blend shirt features a pink RARE CUT logo on the front and a breast cancer ribbon on the back, surrounded by the words 'support', 'strength', 'courage', 'fight', 'hope' , "bravery" and "faith".
Below the pink ribbon and the words around it, the text reads:
"1 in 8 women will be diagnosed with breast cancer at some point in their life. A portion of the proceeds from this shirt was donated to support research and help people get the care they need.
"It's the most comfortable shirt you'll ever own and the first shirt you'll wear out of the laundry," says Orisses. "We made sure to source the best materials to ensure the best quality, fit and comfort."
The shirt is printed in the USA and is made of a blend of polyester, combed ringspun cotton and rayon. The shirt is available for purchase here with free shipping available in the United States.
But Orisses didn't even initially set up his business to sell shirts; rather, his goal was to target an even more specialized aspect of menswear: pocket squares.
In addition to the limited edition "Breast Cancer Awareness" t-shirt, RARE CUT offers an equivalent pocket with pink ribbons. A portion of all sales benefit Kat's Ribbon of Hope.
After hitting 500% of his fundraising goal on Kickstarter in the fall of 2020, the 33-year-old Queens native started RARE CUT with the intention of creating pieces that "just stay put."
Using local artists and artisans, Orisses developed pocket squares constructed with a patent-pending shape-memory metal liner intended to retain its shape and allow for natural wrinkle release.
"I wanted to create pocket squares with a timeless look and feel that never disappoints," says Orisses. "RARE CUT pieces are designed to capture any shape and maintain it effortlessly."
Since then, the company's catalog has more than 40 models of pocket squares. Orisses prints the parts by hand in small batches in its own garage.
RARE CUT received press from outlets such as Forbes, which included the brand in an article from December 2020 highlighting suggested Christmas gifts for men.
The company's pocket squares have also hit the shelves of stores such as by Rothmana family-owned menswear company with four locations in New York City.
"I'm a professional stylist, and most of my clients struggle with their pocket squares," says Rothman stylist Jennifer Calcagni-O'Dean. RARE CUT changes all that. Quick and easy to fold, and it still looks great.
Many RARE CUT designs pay homage to the founder's Greek ancestry, which comes from the island of Chios. "Evzones", "Summer Waves", "All Eyes On Me", "Mykonos Blue" and "Santorini Summer" are among the brand's Greek-inspired options.
Orisses says that, at its core, its brand is about outperforming the competition with the highest quality while consistently engaging philanthropy and charity through campaigns and awareness.
"RARE CUT epitomizes being a cut above the rest," he says. "That goes not only for our brand and products, but also for our mission to help uplift people and our community."
To learn more about RARE CUT and browse the products, visit the company's website.
---
Is The Pappas Post Worth $5 A Month For All The Content You Read? Every month we publish dozens of articles that educate, inform, entertain, inspire and enrich the thousands of people who read The Pappas Post. I ask those who frequent the site to participate and help keep the quality of our content high and free. Click here and start your monthly or annual support today. If you choose to pay (a) $5/month or more Where (b) $50/year or more you will then be able to browse our site without any advertising!
Click here if you would like to subscribe to The Pappas Post weekly news update