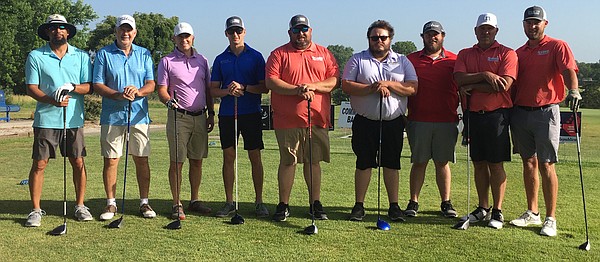 Chamber of Commerce Hosts 18th Annual Golf Tournament
Thirty golf teams gathered at the California Country Club for one of the Chamber of Commerce's most popular events.
The California Region Chamber of Commerce held its 18th annual golf tournament on June 15. With 30 teams and 20 volunteers, this year's event had the chamber's second highest attendance behind last year's tournament.
But, this year had a higher participation from local businesses. Dwight Sanders, chairman of the chamber's golf committee, said various businesses in the California community are supporting the tournament through hole sponsorships on the golf course. He said they had 71 paid sponsors for the event compared to 47 last year.
Sanders thanked committee members Tyler Clenin, Brad Baer, ​​Jenny Waymire, Blake Howard, Shelly Hampton as well as chamber executive secretary Sandra Ratcliff for their efforts in organizing the tournament.
He said the six of them collected hole sponsorships, found teams and won door prizes for the event. Sanders said each of the committee members solicited donations, recruited volunteers and planned the tournament.
Sanders said the exact proceeds from the tournament were not yet available, but he estimated $7,000 had been raised.
"It was a great day because we had a lot of great volunteers and a lot of teams came out to support the chamber," Sanders said. "We are truly grateful to have a community that comes forward and supports business owners and those who are members of the California Chamber of Commerce."