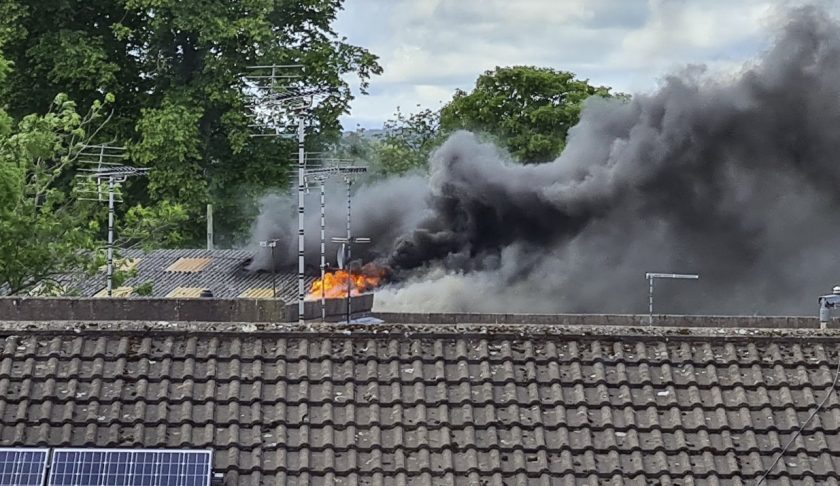 Fire crews dealt with a fire at a building in Buckley earlier today
Deeside.com > News
Job : Sat 25 Jun 2022
Updated: Sat 25 June
Update: A fire broke out at a vehicle repair garage in Buckley this morning.
Fire crews were called just before 11.45am to report a fire at CJ Motors on Mold Road, the garage was then closed.
Four aircraft rushed to the scene, with firefighters saying the blaze was brought under control shortly after 1:30 p.m.
CJ's owner Calum Cawley posted an update on his Facebook page, he said: "Thank you all for the concern, it doesn't look great in our garage at the moment."
"Thank you for the great efforts of our Fire Department to bring the fire under control and extinguished, NO ONE was injured as we are closed today as a garage and will be closed for some time, however I am looking to setting up at least one van on the road so we can continue to provide the service that all of our wonderful customers deserve.
Previous report: The North Wales Fire and Rescue Service said it was dealing with a fire at a building on Mold Road in Buckley.
Photos and videos posted on social media show clouds of black smoke rising from the area.
The fire appears to be in a garage behind the Spar on Mold Road.
The fire department asked people to avoid the area and said: 'We are working to bring the incident under control as soon as possible.
Welsh Water said discolored water was affecting the Mold Road area in Buckley.
Their website states, "We are aware that customers in this area are affected by discolored water."
"We expect all supplies to be restored later today."
"If you can get your cold kitchen faucet to run, that will also help drain the supply."
"Further updates will be provided here when we have more information."
Thanks to Angela Clarkson for the video and photo.
Our teams are currently facing an incident on #mold Road, Buckley – Please avoid the area.

We are doing our best to bring the incident under control as soon as possible. pic.twitter.com/8Q9fQntWLE

– North Wales Fire #DiogeluCymru #KeepWalesSafe (@NorthWalesFire) June 25, 2022
Did you spot something? You have a story? Send a Facebook message | A direct message to Twitter | Email: [email protected]