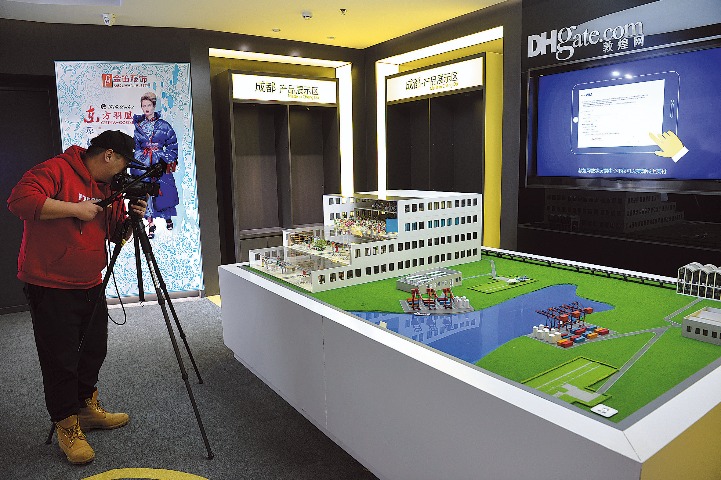 Gen Z drives social commerce boom
DHgate, a Chinese cross-border B2B e-commerce platform, is doubling down on the growing social commerce industry, which means that a person's entire shopping experience – from product discovery to the process of payment – takes place on a social media platform, as part of its broader efforts to accelerate the digital transformation of traditional global commerce.
Chinese Gen Z consumers, those born between the mid-1990s and early 2010s, have shown increasing demand for personalized, niche and smart products, said Diane Wang, Founder, President and CEO of DHgate, adding that society attaches great importance to the purchasing power of the younger generation.
According to her, sales of smart equipment, such as robot vacuums, scooters, and wearables through DHgate's online platform jumped more than 200% year-on-year in 2021.
Gen Z makes up a third of the world's population, becoming the largest generation group in the world, according to a survey by data.ai, a US-based mobile analytics company. Their strong will to consume is leading the global consumer trend and bringing great changes to global trade.
"As for the growing social commerce segment, we aim to help Chinese manufacturers, brands and small and medium-sized enterprises access private domain global channels, as well as empower Gen-Zers and content creators, including internet celebrities, key opinion consumers and brand owners," Wang said.
The global social commerce industry is expected to grow three times faster than traditional e-commerce to reach $1.2 trillion by 2025, said global consultancy Accenture. Growth is expected to be primarily driven by Gen Z and millennial social media users, accounting for 62% of global social commerce spending by 2025.
DHgate is exploring new possibilities in the cross-border e-commerce industry through social media. He launched MyyShop, a social commerce software as a service or SaaS platform in 2020, which connects Chinese supply chains to people with high private domain traffic or influencers on social media platforms. social networks around the world.
Myyshop also provides social media-based services, such as AI-based smart product selection and smart logistics services, and helps micro, small and medium enterprises, especially newbie merchants and people with social influence, to manage their online stores as direct sellers.
Wang said the relationship between production and consumption in global trade and the global supply chain is being reshaped in the era of social trade. "Anyone can participate with a much lower entry level, including small and micro entrepreneurs and social media creators."
She added that the number of active users on MyyShop increased by 76.3% YoY in the first quarter of this year, while the number of paying users increased by 65.6% YoY, the value gross of goods, or GMV, skyrocketing. 845.5% on an annual basis.
"Currently, MyyShop works with over 50,000 influencers and content creators globally. Our goal is to reach 500,000 influencers and content creators across the globe this year," Wang said.
Social commerce empowers small brands and individuals and forces big brands to reassess their relevance to a market of millions, said Oliver Wright, global head of consumer goods and services at Accenture.
Being engaged in the social commerce industry means working together within a vibrant ecosystem of platforms, marketplaces, social media and influencers to share data, insights and capabilities to deliver the right incentives and better customer experience in an integrated digital marketplace, added Wright.
Founded in 2004, DHgate serves over 2.4 million registered suppliers and over 46.6 million registered buyers, covering 223 countries and regions around the world, with over 100 international logistics routes and over 10 inland warehouses. foreign.
"Chinese younger generation are emerging as mainstream consumers and becoming the engine of growth for local brands due to their higher disposable income, as well as personalized and diverse demand," said Bai Ming, deputy director of the Department of International Market Research at China Academy of International Trade and Economic Cooperation.