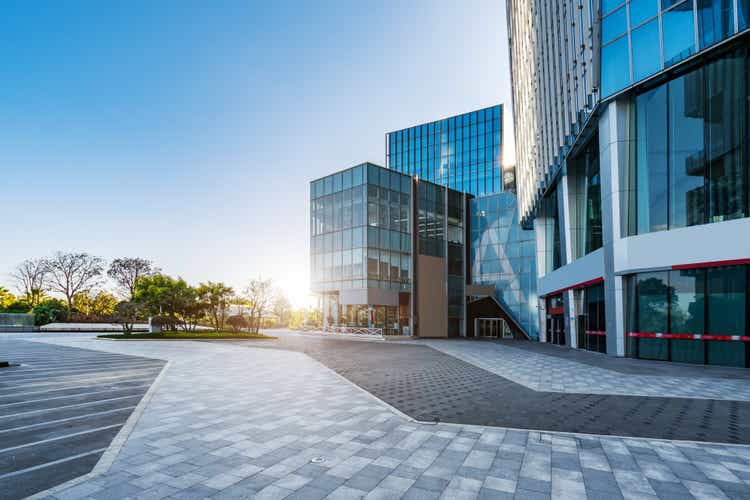 iStar: Why I'm not buying yet (NYSE: STAR)
Investment thesis
iStar Inc. (STAR) has experienced significant growth over the past two years due to its new concept in the real estate investment world, land leases. This growth is expected to continue over the next few years, but interest rate increases may have a slight impact on the company's revenue. STAR is quite valued with a surprisingly high short interest rate of 25.27%. Looking at STAR from the perspective of an income investor, it may be an interesting choice because since management reinstated the dividend, it has increased it every year since.
business model
iStar was originally an mREIT until the financial crisis of 2008, and since the 2010s the company has reinvented itself into a diversified REIT with a new concept in the market: land leases. They also launched a new company Safehold Inc. (SAFE) which they own. The concept of a ground lease is that they separate the building from the land and create two different assets. Land becomes a bit like a bond in a company, a low-risk, low-return asset; and the building becomes much like a stock in a company, a higher-risk, higher-return asset. And both can be owned by two different investors, just like you don't have to own a company's stocks and bonds at the same time, but you have the option to do so. STAR is diversified across many real estate segments ranging from offices, multi-family homes to industrial buildings and land. Thanks to this completely new approach to real estate development and investment, the company has grown rapidly over the past three years.
Finances and income
Q3 results
The company will announce its fourth quarter results on February 21, 2021 and reported strong third quarter results. STAR tracks revenue from multiple streams and these sources are well diversified. The two largest sources of revenue are revenue from operating leases and revenue from land development.
The company could increase revenue in almost all segments from YTD 2020, except for interest income due to lower business loans. STAR also reported phenomenal net earnings for common stock on a diluted basis. They reported $1.51 per share for the third quarter, compared to third quarter earnings of just $0.29 per share. STAR not only has a well-diversified income stream, but also a well-diversified portfolio. Geographically, they are diversified across the country with 30% of their portfolio located in the Northeast, 18% in the West, 14% in the Mid-Atlantic, 11% in the Southwest and 10% in the southwest. STAR's main holdings are ground leases (not very surprisingly) and the entertainment and office segment is large enough. Cash available for investing increased in the third quarter to $299 million from $155 million in the second quarter of 2021. The company also has an unrealized gain in Safehold of $1.4 billion, which increased from $1.2 billion on an annual basis.
Evaluation
The company's price-to-pound ratio has been rising since the second half of 2019 (barring the pandemic crash). Slowly but steadily, the book value declined relative to the stock price. The company is currently quite valued in my opinion. STAR's EV/EBITDA is identical to the industry median: 22.64. Based on P/E ratios, the company may appear undervalued, but Seeking Alpha's valuation compares STAR's P/E ratio to an industry median of various league players such as WP Carey Inc. (WPC) . It's another diversified REIT, but I think we can all agree that STAR and WPC are not in the same league. This fair valuation is also supported by the current level of the dividend yield. It is in the lowest 20% based on the last 3 years. This is also the consequence of the extreme price increase in 2021 with a total return of almost 50%. I'm bullish on the company, but the current valuation isn't attractive enough for me. Also, the company has a very high short interest of over 25%, which doesn't mean STAR shouldn't be touched, but at least a red flag for me. However, it is fair to say that STAR and its "child" SAFE should grow above the average rate in the coming years.
Company specific risks
In 2019, EFC announced that it would focus its business activities primarily on scaling the SAFE portfolio through its position as SAFE's largest shareholder (they own around 66%) and investment manager and providing lease financing and equity to land lease customers. The company has made a significant investment in the common stock of SAFE and has dedicated a large majority of its staff to working to grow the land leasing business. We can say that it was a good choice because the business of land leases has been booming ever since. The risk factor here is the overly concentrated business model. If the ground lease concept fails or suffers a setback, it will have a huge impact on STAR.
STAR has acquired and will acquire commercial properties with the intention of separating ownership into an interest in land sold to SAFE and an interest in buildings and improvements thereon sold or leased to a third party. There may be instances where they are unable to find a buyer or tenant for the improvements, in which case they will be subject to the risks of owning operating properties with all the costs necessary to operate the building.
There is also a potential conflict of interest between STAR and SAFE. Two iStar directors also sit on the SAFE board. Conflicts may include conflicts resulting from the application of agreements between STAR and SAFE; conflicts in the time that officers and employees devote to SAFE business versus STAR business. I don't think this is a major setback as SAFE is the "little child" of STAR, so it is necessary to have combined operations.
What could be a bigger risk is the company's loan portfolio. They are subject to additional risks associated with participating in the loan. Since only 50% of their $411 million real estate finance portfolio is fixed rate in the event of an interest rate hike (and this will almost certainly happen in 2022), interest charges may increase and the cost of capital will also increase.
My take on the STAR dividend
Current dividend
Due to the Great Recession, STAR had to stop paying dividends and had to stop an 8-year dividend payment streak. In 2018, management reinstated the quarterly dividend and since then STAR has been paying a quarterly dividend and growing it consecutively every year. That's a good sign for me as a partly income-seeking investor. I see that management has put in place a dividend policy not only to pay and maintain the dividend but also to increase it every year.
Future sustainability
Management has increased the dividend since 2018 by 38.89%. That's a very impressive number and Seeking Alpha estimates an 8.88% dividend increase for 2022. Based on the company's numbers, revenue, EPS and book value, they have every opportunity to To do. Management usually announces the new high dividend in the second quarter, so I expect that to happen in 2020 as well. I expect a dividend of $0.135 per share or more from the second quarter of 2022, which would mean an 8% increase from the current quarterly payout of $0.125 per share. STAR also has a fair payout ratio that leaves room for plenty of dividend increases.
Summary
They have an impeccable dividend history since 2018 combined with impressive growth. Income investors might find this attractive, but unfortunately the yield is closer to average at the moment. The company is fairly valued with a significant short interest. STAR is heading for great future growth that can only be briefly disrupted by the 2022 interest rate hikes. STAR definitely has a gap in the industry. My only concern is the current valuation, but for investors who bought in early 2021, they should be happy. I'm waiting for STAR to drop below $20 to consider a buy position.