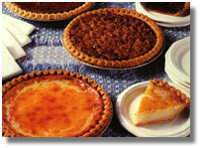 Local housewives selling Wick pies for the holidays – Hamilton County Reporter
Did you miss having a slice of Homemaker's Kitchen pie at the Hamilton County 4-H Fair this year? Here is your opportunity to have one, two or three pies for the holidays and support local community projects, including scholarships.
Six flavors are available for purchase: Sugar Cream, Pecan, Peanut Butter, German Chocolate, Pumpkin, and Apple. Provided by Wick's, they are perfect for the holidays ahead and can be taken out of the freezer when needed.
All pies are $ 9 each. The deadline to order from Extension Homemakers is Thursday, October 14 at noon. Order forms are available by calling the Purdue Extension Hamilton County office at (317) 776-0854 or by visiting bit.ly/HomemakersPie Fundraiser. Payment is due at the time of ordering.
Pies can be picked up at Homemakers Kitchen on the Hamilton County 4-H Fairgrounds, 2003, Pleasant St., Noblesville, between 3 p.m. and 6 p.m. on Tuesday, November 16. Drive-thru service is available, so please stay in your car.
Don't miss the opportunity to support the Extension Homemakers and gift a delicious holiday pie to your family or business. For more information about Extension Homemakers in Hamilton County, call Purdue Extension Hamilton County at (317) 776-0854.